300 miles this weekend!
After I got my bike in April, I had been reluctant to ride on the freeways untill I got comfortable with the handling of the bike and the speed of traffic. Last week I finally worked up the nerve to ride a few miles on I-71. A few more short rides on the freeway and I was riding like a pro!
Now that a whole new world of previously inaccessable routes had opened up, I spent friday planning all the riding I was going to do over the weekend. I recommend "
Motorcycle Rides in America
" as a starting point to locate good routes in your area.
Google Maps
is the best mapping tool online to plan your routes. Details of my weekend rides will be provided in upcoming posts!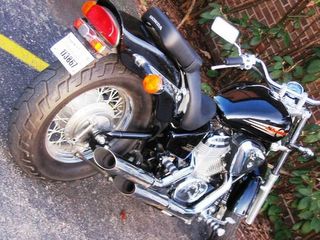 My 2001 Honda Shadow VLX 600